So Kevin and I went to Yosemite for our 3 year anniversary. The drive was alright since Kevin made us leave at 5:00 in the morning. (He really wanted to leave at 3:30am but since we only had one day there I didn't want to be exhausted all day so I talked him into 5am) Kyle said the drive would take 4 hours, which I was dreading, but stupid me looked at my navigation timer and saw that it was really a 6 hour drive. SOOOOOOO long, but worth it in the end. We got there in 6 hours exactly, only stopping 3 times for me to pee. (Thats good for me) We checked in and ate lunch at the lodge restaurant and headed to the Yosemite Valley. We stopped at this little creek first so Kevin could look for fish, even though none could be found, it was still a beautiful picture opportunity.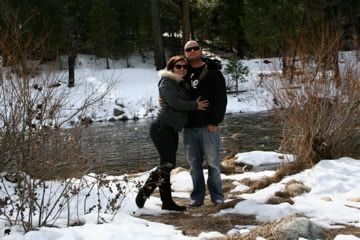 Then we headed though the valley and as soon as you come out of the amazing big mountain tunnel you see this!
Wow right, the valley is SO big! And there is a beautiful water fall that Kevin took us on this crazy trek through snow to try to get to, only to find out that there was a trail to the top. So we did that too. I fell three times and peed my pants from laughing so hard. (If you know me this is not as weird as you think it is...haha) So we got up to the waterfall and it was awesome, you could feel the mist on your face even though it seemed to be so far away. 
We drove back  to the lodge and got ready for dinner. We drove into Oakhust and went to a tattoo shop to get me a new lip ring. (I lost my old one and Kevin didn't want it to close...so sweet!) It was weird and the guy only had a bro horse shoe ring that was one gauge bigger than what I had before. So I sucked it up and pushed it in. OUCH! Then we went to dinner at this local mexican joint. Then went back to the lodge for desert and a little hot tubbin. We were like only one of a few people in the hotel so we thought we would have the hot tub to ourselves but there was like 6 kids swimming in the indoor pool so we had to stall a little. The bar tender told us about a game room in the basement so we went and played a game of pool before trying the hot tub again. Hot tub, bottle of wine, shower, and bed...amazing end to an amazing day. Here is our cottage:
The next day we got up early to go do the Giant Sequoia Tree hike. They told us that it was a two mile hike but I didn't really think anything of it. They told us we should probably get snow shoes so we did. After we were hiking up hill, in snow shoes, going less that 2 miles an hour, it dawned on me that this 2 mile hike was going to take us over an hour. We, well I, stopped numerous times to complain and tell Kevin we should turn back, but he quietly pushed me to keep going, the way only he can. We did and after an hour and ten mins of complaining, we made it to the trees. They were amazing and I am so glad we did it. Here is the biggest one we saw:
It was so cool because we were the only ones in the whole park. Cool but a little scary, what if we got eaten by a bear or something???? So we headed back, and thats when I realized that I had a monster of a blister that popped. Kevin took off his socks so I could have some extra padding on it (I know...hes the jam) And so I laid eyes on my marble size blister:
It hurt so bad and I had to walk down that same 2 mile trail, still wearing my snowshoes and on the verge of tears the entire time. I made it though, a lot of screaming but not a single tear shed. All in all, two hours of hiking in the snow, $32 for snow shoes, and now two hours behind schedule to get home to the babes before they got up from their naps...we had conquered the mountain and it was worth every pain staking step.