So the holidays kicked my butt this year. Between a million places to be and tons of orders for Ankle Biters, I was stretched a little thin. One of my New Years resolutions this year is to blog more. So I am back tracking a little to Christmas...a blog must!
The Christmas season was so much fun this year. The kids are big enough now to really enjoy the whole thing and noticed every Christmas themed thing everywhere. Olivia and Toby learned "Jingle Bells" this year and it was a must before bed every night. The also were obsessed...I mean OBSESSED with the "Nutcracker theme song" Both were sung at the top of my children's lungs the whole month of December. Another new thing this year was Christmas movies. I tivo-ed a whole bunch and we must of watched at least two every day. Their favorites were Prep and Landing, The Polar Express, and Nightmare before Christmas. We enjoyed going on walks and looking for Christmas lights. The kids "ooooohhhhs and ahhhhhhhhhhs made it very fresh and new. We made cookies for Santa this year on Christmas Eve and the kids made sure to leave the cookies out with chocolate milk (because who really likes plain milk with their cookies right?)And also made sure to leave a carrot stick out for each of Santa's reindeer.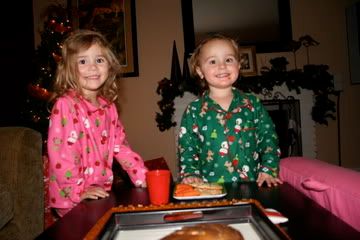 Christmas morning was crazy, actually opening presents was crazy all together. The kids would just rip the wrapping paper off of the gift, pause for a millisecond to see what it was and ask for another present to open. If the present was in a box, forget it, they would throw it aside and ask for another one. Made me a little annoyed but I have to remember they are 2 and 3 and I can't expect much more.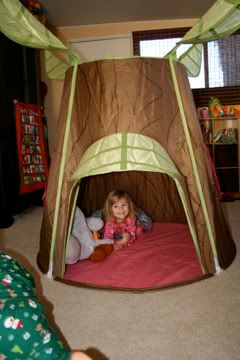 My FAVORITE moment by far though would have to be openeing Olivia's present to me. We were at Target a few days before Christmas with my sister Lacey and she had taken Liv to go and get something. She told my sister that she wanted to get me something. When my sister asked her what she wanted to give me she told her scissors. My sister thought it was pretty random but went over to the scissor aisle and she picked out yellow ones "Because Mommy wikes wewwow" So they came home and wrapped them up. So I open them up on Christmas and just start balling crying. So here's why: About a week before that my craft scissors had broke. She was in the room when it happened and told me "It's ok mom, maybe Santa will bring you new scissors for Christmas" I didnt think anything of it but she remembered and wanted to get them for me. HOW FREAKIN SWEET RIGHT? So thoughtful for a 3 year old. I love her thoughtful heart.